Tom Leach Cape Cod Marine Watercolor Gallery
Harwich Port, Massachusetts

THIS IS THE
CELL PHONE VERSION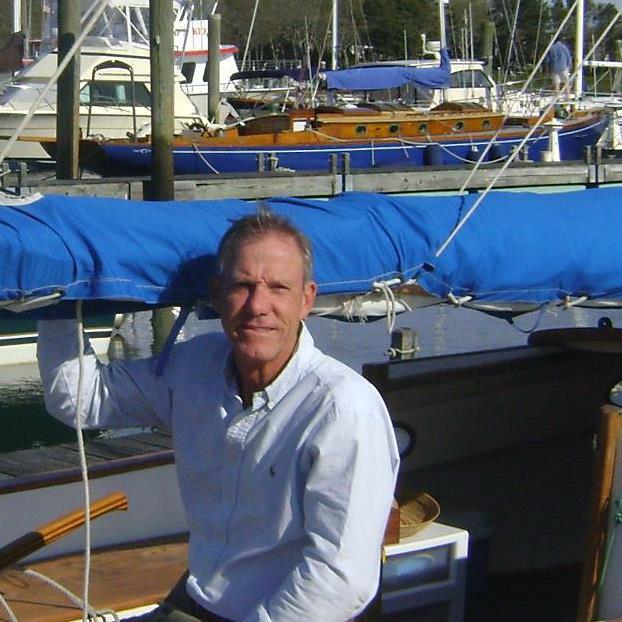 The Artist
Tom Leach is now retired after 40 years as Harbormaster of Harwich Port on Cape Cod. Here he shares his lifetime of views on the water.
Tom Leach has been sketching and painting art since before graduating Tufts University and is a jurored member of the Guild of Harwich Artists. Although he majored in chemistry, Tom made time to take art courses in perspective, anatomy, and oil painting. He finds the shape and design of boats and changing boat scenes intriguing and is a boat designer by trade. In 1984, he designed and built the first Cape Cod Frosty a dinghy which now numbers in the thousands with an active racing class. His time on the water has allowed him to appreciate, study and paint this subject.
When not enjoying watercolor he has stayed very active as a charter boat captain at Chatham Bars Inn and Resort and, as an amateur astronomer, leading evening stargazing talks at Wequassett Inn. Tom also enjoys surfing, golfing, racing a Flying Scot, or just knocking around Pleasant Bay and Wychmere on his catboat TOM CAT.

---
These are all original watercolor paintings priced as listed. Framing costs considered for matted, RIBBA or A.C. Moore, quality frame and glass. Unframed art can be mailed anywhere in the world, and frankly I would rather just paint than frame anyway. We must add 6.25% sales tax to all items for Massachusetts residents. Matted and framed art may be seen or picked up at my gallery on Cape Cod ( Harwich, by appointment only). If you see something here you like that is sold or have an idea of what you would like painted, I am more than willing to undertake this commission at prices similar to what you see here. I can paint from a sketch, photograph or idea. You can contact Tom Leach or call direct at 508-237-9291.
What's New:

Watercolor
Call or text 508-237-9291

Please call or text 508-237-9291